Incontra Comarch @ Forum retail il 24 e 25 Novembre all'Ata Hotel Expo Fiera
Milano, 24/11/2015 - 25/11/2015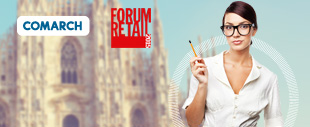 Il 24-25 Novembre si svolgerà a Milano il Retail Forum e Comarch sarà sponsor ufficiale dell'evento. Durante la conferenza, Comarch presenterà soluzioni in ambito di  CRM&Marketing, Enterprise Content Management e Electronic Data Interchange.
Il 24 Novembre alle 15:30 durante la sessione CRM, Loyalty & Fidelity Card, Francesca Borgato, CRM&Loyalty Consultant, presenterà "Divertimento, emozioni e Internet of Things - gli straordinari benefici del miglioramento della customer experience". Il 25 Novembre alle 9:30, nel corso della sessione "Logistica Retail & Consumer Goods", Vincenzo Sinibaldi, Business Development Manager, parlerà di "Come ottimizzare la Supply Chain attraverso l'uso di Comarch EDI". Simona Castelnuovo, Business Development Manager, interverrà nel corso della sessione "Soluzioni IT e Tecnologie per il RETAIL" il 25 Novembre alle 12:10 presentando il suo intervento: "Realizzando il sogno: come assicurarsi un processo end to end di P2P, supportato da master data di alta qualità".
Ti invitiamo quindi a partecipare all'evento e a incontrare i nostri esperti di Comarch. Per maggiori dettagli visita il sito: www.forumretail.com/2015.