Annota la data nella Tua agenda ed unisciti a Comarch in occasione della conferenza Customer Day 2015 di Milano
Milano, 17/06/2015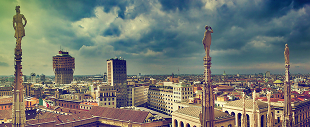 Il 17 giugno, al Teatro Franco Parenti di Milano, Comarch parteciperà e sponsorizzerà la Conferenza Customer Day 2015.
Durante la Conferenza Customer Day, in un pannello di discussione speciale, la sezione Comarch SFA Business Unit, in collaborazione con l'Istituto Internazionale di Ricerca, organizzerà il laboratorio intitolato "Miglioramento dei processi di vendita attraverso tutti i canali". Inoltre, i partecipanti alla conferenza avranno l'opportunità di assistere alla presentazione del programma "Amore, divertimento e Internet of Things" da parte di Comarch CRM&Marketing.   
Il laboratorio Comarch SFA sarà un'ottima possibilità per scoprire come ottimizzare i processi e la tecnologia destinata alla gestione dei partner in affari in un ambiente caratterizzato da più canali. Inoltre, ci insegnerà a comandare le vendite attraverso innovazioni nell'esecuzione del commercio al dettaglio e nell'amministrazione delle relazioni con i clienti.
L'argomento principale della presentazione "Amore, divertimento e Internet of Things" sarà l'impatto degli strumenti tecnologicamente avanzati e delle strategie di coinvolgimento nelle nostre vite quotidiane. Il relatore spiegherà in che modo il business può trarre vantaggi da queste splendide opportunità. 
Saremo lieti di incontrarti in occasione del nostro workshop.