Digital Transformation – l'Innovazione che porta al successo
Hotel Principe di Savoia, Milano - Italia, 28/01/2016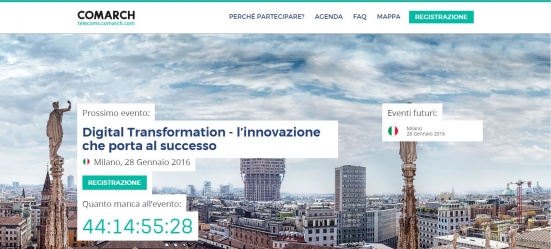 In un recente studio di Gartner (*), dove viene offerto uno sguardo nel futuro digitale per l'anno 2016 e successivi, si mette in evidenza come le aziende di TLC siano oggi chiamate ad intraprendere cambiamenti radicali, da effettuarsi in tempi molto ristretti.
Per esempio, si prevede che nel 2016 la spesa in nuovo hardware per Internet of Things (IoT) supererà i 2.5 milioni di dollari al minuto. Nonostante queste cifre possano far sobbalzare dallo stupore, esse impallidiscono se confrontate con un'altra previsione secondo la quale entro il 2021 nel mondo verranno acquistati ed installati un milione di apparecchi IoT ogni ora.
È chiaro come livelli così elevati di sviluppo ed utilizzo comporteranno sfide importanti per le imprese e per le aziende IT, che dovranno gestire e tracciare una mole immensa di attività legate all'Internet of Things.
Discuteremo di questi e di altre tendenze del mercato digitale nel corso del primo evento di Comarch Italia dedicato al tema della trasformazione digitale come fattore di successo.
Durante il workshop avremo interventi di speaker autorevoli scelti all'interno delle organizzazioni di alcuni nostri clienti prestigiosi, che testimonieranno la loro visione sul futuro delle TLC la loro esperienza con Comarch.
Ci saranno inoltre momenti di condivisione di know-how e di elevato contenuto tecnico, a cura dei maggiori esperti di Comarch in vari settori quali M2M/IoT, Data Analytics, Beacons ecc.
Sarà anche possibile conoscere e condividere opinioni ed idee con il management della nostra azienda.
Se fate parte dell'organizzazione di un operatore TLC nel mercato italiano e siete coinvolti in questi temi sempre più attuali, avremmo il piacere di avervi nostro ospite al workshop:
"Digital Transformation – l'Innovazione che porta al successo"
28 Gennaio 2016
Hotel Principe di Savoia – Milano
Data l'eccezionalità dell'evento, che non si ripeterà per almeno tutto il 2016, e il numero limitato di posti disponibili, vi consigliamo di procedere subito all'iscrizione (completamente gratuita) alla seguente pagina web, dove potrete trovare anche tutte le informazioni utili:
http://telco-workshops.comarch.com/it/milano/
(*) i dati riportati sono tratti da "Top Strategic Predictions for 2016 and Beyond: The Future Is a Digital Thing", del 2 Ottobre 2015, Gartner