"Intelligenza Artificiale, Machine Learning e il Futuro delle Telecomunicazioni": nuovo Survey Report sul futuro dell'IA per le Telco

Gli operatori di telecomunicazioni stanno cercando di rendere le loro reti sempre più dinamiche per incontrare le nuove esigenze dei propri clienti e per le operazioni interne. L'intelligenza artificiale e il Machine Learning possono supportare le società Telco per ottenere un vantaggio competitivo e affermarsi sul mercato delle telecomunicazioni in continua evoluzione. Il futuro di queste tecnologie dipende dagli operatori e da come decideranno di affrontare la sfida dell'implementazione di AI / ML.
Intelligenza Artificiale per Telecomunicazioni: state of technology 2020
Per comprendere meglio il ruolo di Intelligenza Artificiale e Machine Learning per le telecomunicazioni, abbiamo redatto insieme a Mobile World Live un report interrogando oltre 50 operatori Telco sul mercato europeo. L'obiettivo è indagare se gli operatori davvero ritengono strategici per lo sviluppo del business, il loro tasso di adozione e utilizzo, l'entità della spesa, le problematiche e criticità connesse a queste nuove tecnologie. 
Il report approfondisce quattro argomenti principali:
Le strategie di intelligenza artificiale e machine learning degli operatori;
Gli effetti di AI / ML sulle reti;
Le preferenze degli operatori in tema di tecnologia AI;
Problemi con l'implementazione dell'intelligenza artificiale.
Cosa abbiamo scoperto
Ciò che ci ha reso più entusiasti del futuro dell'IA nel settore delle telecomunicazioni è che gli operatori credono fortemente in questa tecnologia e la maggior parte di loro l'ha già implementata in un modo o nell'altro.

"La stragrande maggioranza degli operatori ritiene che AI ​​e ML offrano un reale vantaggio competitivo. In totale, quasi il 90% degli operatori ha affermato che l'utilizzo di AI / ML offre un vantaggio competitivo oggi o lo farà in futuro. Inoltre, il 58,8% dei CSP intervistati ha implementato soluzioni AI o ML su larga scala o lo sta facendo ".

Quasi il 60% degli operatori intervistati ha affermato di aver applicato tecnologie guidate da AI / ML nelle Operations. Trattandosi di una tecnologia è ancora nuova e relativamente costosa, è decisamente un tasso di utilizzo molto elevato. Lo studio ha anche dimostrato che la maggior parte degli operatori ritiene che l'Intelligenza Artificiale e il Machine Learning possano aiutarli maggiormente a migliorare l'esperienza del cliente e la sicurezza aziendale in caso di attività fraudolente.

Il problema maggiormente riscontrato è la mancanza di competenze in questo ambito, seguito dagli alti costi associati all'implementazione di AI / ML.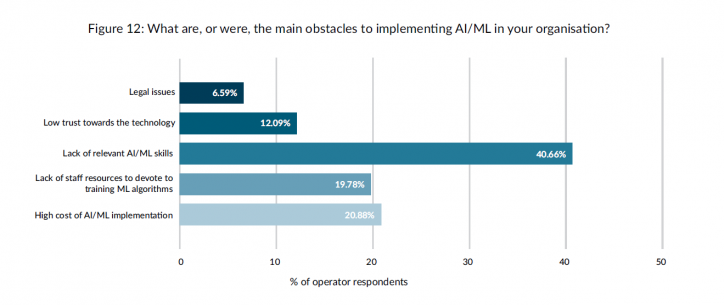 Intelligenza Artificiale e Machine Learning nel mirino degli operatori Telco
Molti operatori Telco stanno già sperimentando i benefici di IA e ML per il proprio business e prevedono un crescente utilizzo di queste tecnologie nel loro futuro.

Per scoprire cosa pensano diversi operatori di telecomunicazioni in tutto il mondo dell'IA e del suo potenziale per le telecomunicazioni, scarica il report "Artificial Intelligence, Machine Learning and the Future of Telecoms".